With free M&S vouchers for purchasing already great value floorwise products, the Big Bonanza Promotion is now on. Throughout September, October and November, any retailer or contractor purchasing Underlay, Diamond Gripper, or F599 Spray Adhesive to the qualifying amount will see up to £20 of vouchers as reward.
Those buying any 10 mixed rolls of traffic, maxi, tread, pinnacle or supreme underlay will receive a £10 M&S voucher, while 10 boxes of Diamond Gripper will see a £20 voucher awarded. For every 10 boxes or tubes of qualifying profiles retailers and contractors will see a £10 voucher and 10 boxes of F599 Spray Adhesive are entitled to £5 worth of M&S vouchers.
"We've created the Big Bonanza Promotion as a thank you to our loyal customers as well as to give new customers another incentive to discover the quality and value of floorwise," says Richard Bailey, managing director. "That's why we've made it available on some of our most popular day-to-day products and with reasonable qualifying quantities too. We didn't want an overly complex points for gadgets style promotion, just a fair reward for a fair purchase!"
The promotion runs until 30th November 2015. Full terms and conditions are available on request by contacting floorwise.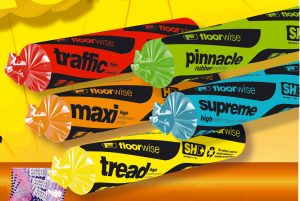 For further information on these and other great flooring products contact Floorwise on 01509 673974, visit www.floorwise.co.uk or email wiseup@floorwise.co.uk