F555 All-Purpose Flooring Adhesive
This all-purpose flooring adhesive is an acrylic based, non-staining adhesive formulated to give excellent initial grab and a high quality, durable bond when dry.
Suitable for permanently bonding carpets and vinyl floorcoverings onto a wide variety of subfloors. It is low in VOC's and the adhesive is suitable for application over most underfloor heating systems.
Coverage: approx. 45–55m² per 15kg bucket
● Excellent initial grab
● High performance bond
● Great coverage
● Easy application
● Suitable for use with underfloor heating systems
● Low VOC
Product Data Sheet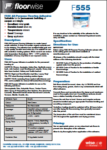 Safety Data Sheet