F594C – Carpet Tile Tackifier Spray Adhesive
This high solids spray adhesive remains permanently tacky when dried, perfect for holding down carpet tiles, underlays and other floorcoverings which may require uplifting at a later date. Suitable for bonding to a wide variety of subfloors.
Coverage: approx. 300-500m² per can on a single sided application per canister, depending upon the weight of application and porosity of the subfloor.
● Superfast spray action
● High adhesive content
● Fast drying
● Exceptional coverage
● Low odour
*Not suitable for highly plasticised Vinyls or PVC
Product Data Sheet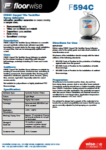 Safety Data Sheet