Delivering a super quick and easy solution to installing carpet tiles, floorwise F594C carpet tile tackifier spray adhesive uses a specially developed pressurised canister and spray nozzle to provide controllable yet rapid coverage.
Suitable for bonding carpet tiles and underlays onto most subfloors, F594C is the latest incarnation of floorwise's spray adhesive system, delivering a permanently tacky layer of adhesive for a secure bond, yet still allowing the tiles or underlay to be lifted when needed. With coverage of 350-500m2 from each 21-litre canister the low odour, non-chlorinated, CFC free spray system significantly reduces installation time.
"The continued development of our spray technology with this latest evolution underlines that the method is gaining increasing adoption from contractors wanting fast and reliable installations," comments Richard Bailey, managing director, floorwise.
With the adhesive becoming tacky within 1-2 minutes, F594C is one of the fastest installation systems currently available and is incredibly simple in operation, the ideal go-to product for large-scale projects.
Suitable for use through four seasons with an effective temperature range of five to 35°C, F594C is available from floorwise distributors right across the UK.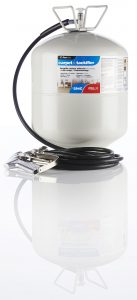 For further information on these and other great flooring products contact Floorwise on 01509 673974, visit www.floorwise.co.uk or email mailbox@floorwise.co.uk