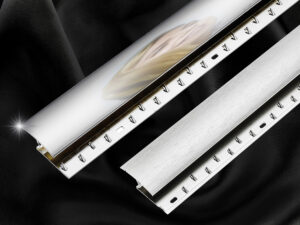 Fuelled by an increasing demand for its brushed steel nickel finish, floorwise's Reflections profile collection has become one of the supplier's real success stories. The popularity of this finish, along with the real chrome option, means the whole collection now ranks as one of the floorwise's fastest growing product groups
Perfectly complementing chrome and brushed metal interior finishes including lights, switches and electrical sockets, the Reflections range has now been improved to deliver even better durability and a higher quality finish.
"Reflections makes achieving that perfect finishing touch super easy," says Richard Bailey, managing director, floorwise. "That, alongside the excellent quality of finish and impressive durability have turned the collection into our most popular yet.
"With the brushed steel nickel finish making the perfect addition to transitions from LVT planks or tiles to other surfaces, or just a great match to sleek contemporary fittings, it really demonstrates the ability of Reflections to bring that extra special look."
Presented on a smart sample board featuring real life samples that makes for a great up-selling tool, the Reflections collection features single edge, dual edge, Z edge, stick down cover strip and 2-in-1 stick down ramp edge. Individually wrapped and supplied in boxes/tubes to make sure they arrive in perfect condition, Reflections profiles are available from floorwise distributors across the UK and Ireland.