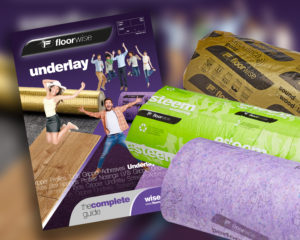 With the publication of a new brochure, floorwise has revealed a brand-new look for its range of underlays, building on the iconic jumping imagery first shown with the launch of its Hyper recycled PU product range.
The famous jumping people can now not only be found across a vastly expanded recycled PU underlay range, but also across the supplier's rubber and felt carpet underlay collections. Highlighting the ability of floorwise underlays to deliver impressive comfort and longevity throughout the product spectrum and across the entire breadth of price points, the new look brings cohesiveness to floorwise's carpet underlay collection.
"We've built a reputation among retailers, contractors and consumers for products that deliver comfort and longevity and we've always given our carpet underlay collections a distinct look," explains Richard Bailey, managing director, floorwise. "By bringing together our carpet underlays through a unified visual look, we're making them clearly identifiable as great value, quality products from the floorwise stable."
As part of its new brochure, which now features a total of more than 50 different products, floorwise has also included all of its underlays suitable for hard floors, including brand new products designed specifically for use with LVT. Now with a wider range of Acoustica sound reducing wood, laminate and LVT underlays, as well as Thermaflow products for underfloor heating, plywood and hardboard; the new portfolio is certainly impressive.
"Now everyone can find their perfect underlay in the same place," continues Richard Bailey. "With more than 50 underlays, we believe we have one of the widest available selections from any single supplier and bringing them together into a single brochure just goes to highlight this. It also gives retailers and installers a super-handy reference point for underlay selection, with comparative guides, detailed information on the benefits of different materials, and clear and easy to understand performance benefits for each product."
The new 'floorwise underlay: the complete guide' brochure is available now from floorwise distributors across the UK and Ireland.
For further information on these and other great flooring products contact Floorwise on 01509 673974, visit www.floorwise.co.uk or email mailbox@floorwise.co.uk