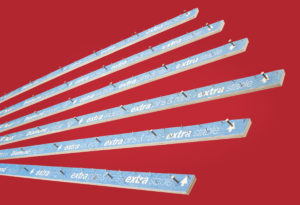 Coping with a variety of subfloor finishes, carpet types, and complex sites has long been a common problem for professional fitters. A quality solution was a challenge that floorwise was keen to address and its Diamond Gripper has become the benchmark in performance and reliability.
Diamond Gripper is a one-stop quality product that provides an easy and secure fit to concrete and wood substrates. Pre-nailed with an increased width and number of zinc-coated rust-resistant pins, there's limited damage to skirting or walls during installation, speeding up the fitting process and helping reduce customer complaints or time spent making good costly accidents.
Diamond Gripper can hold up to 10 and 11mm thick underlays and luxury carpets with ease and is ready to cope with more complex jobs and power-stretching, giving fitters the assurance of a secure hold and a lasting professional finish no matter what the task.
"Listening to fitters and understanding the common problems that affect them every day have been essential in the success of the Diamond Gripper range. It's ability to continue to cope with a variety of complex sites partnered with an ever-changing carpet specification market has continued to highlight Diamond Gripper as a market leader and the one that professional fitters turn to," comments Richard Bailey, managing director, floorwise.
The full Diamond Gripper range is available in wood, concrete, and dual-purpose medium or long pin options. Fitters can purchase Diamond Gripper from floorwise trade counters throughout the UK and Ireland.
For further information on these and other great flooring products contact Floorwise on 01509 673974, visit www.floorwise.co.uk or email mailbox@floorwise.co.uk