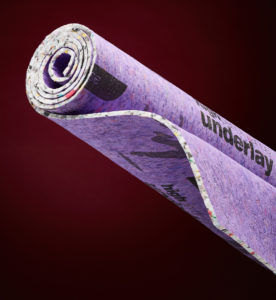 With unrivalled depth from its collection of recycled PU carpet underlays available at distributors throughout the UK and Ireland, floorwise is the name to trust when it comes to finding the right underlay for the job at hand.
Whether your customers are after comfort on a budget or lasting luxury, there's a floorwise PU underlay to match. Starting off with the super value of Medium Density Plus (MD+), homes can enjoy a range of thickness (7-12mm) to suit budget and comfort, safe in the knowledge that their UK made underlay conforms to British Standards.
Then for those after a little more from their underlay, trading up to High Density Plus (HD+) brings better durability and a step-up to Luxury Use. Starting at 8mm thick with Prima and rising to the amazing comfort of 10mm thick Panache, there's plenty of scope to find just the right underlay for the job.
With Enhanced High Density Plus (EHD+) underlays customers can gain a boost in performance, making underlays such as Traffic (9mm) or Maxi (11mm) ideal for long-lasting comfort and recovery in busy family homes. The floorwise range continues to deliver through Super High Density Plus (SHD+) underlays in thicknesses of 9mm or 11mm, ready for creating the ultimate underfoot luxury in homes.
There's even an option for double-stick projects, with the Ultra High Density Plus (UHD+) Tread (9mm) and Lift (7mm). Made for commercial environments, these recycled PU underlays give nothing away in long-term recovery and durability.
Richard Bailey, managing director, floorwise: "Our recycled PU underlay collection covers every need, with a variety of densities and thicknesses for increasingly better comfort and durability, with the added benefit of increasingly better sound reduction and heat retention. So whether installing a luxury velvet in a master bedroom or carpeting stairs in a busy family home, retailers and installers can turn to floorwise and know there's a solution. Combined with the reassurance of a UK made product that passes British Standards, it's a compelling story that's seen us record a strong rise in PU underlay sales."
Featuring in a new brochure from the suppler that also contains rubber, felt and specialist wood, laminate and LVT solutions; the recycled PU collection is backed by strong marketing materials that build on floorwise's long running exposure in the retail and commercial sectors.
For further information on these and other great flooring products contact Cornerstone on 01302 835117 or email cornerstonefloor@btconnect.com