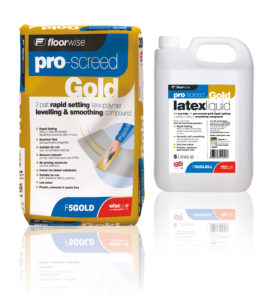 Leaving subfloors smooth and ready to take on any floor covering, Pro-Screed Gold is a two-part levelling and smoothing compound from floorwise. Used by fitters across the country and established as a 'must-have' product to tackle a range of subfloor conditions, Pro-Screed Gold gives the golden touch to any preparation job.
Working over old adhesive residue, on top of a wide range of substrates and compatible with underfloor heating systems, Pro-Screed Gold is a reassuringly versatile solution, and this makes it a great addition to any fitter's go-to product stable. Moisture-tolerant and even working over damp proof membranes; there are few subfloor jobs that can't be tackled by this bag and bottle system.
With a fast setting time of 90-minutes under normal conditions and flow properties that help it cover poor condition subfloors faster, floorwise has developed Pro-Screed Gold to match the performance of the market's best products while still delivering on the supplier's promise of value.
"We now count Pro-Screed Gold as one of our best-selling preparation and installation products," says Richard Bailey, managing director, floorwise. "The combination of versatility, speed, quality and value has clearly met with approval from installers and we've enjoyed consistently strong year-on-year sales growth in the three-years since we launched to market."
A two-part latex polymer levelling and smoothing compound, Pro-Screed Gold can be applied at depths from 2mm to 12mm in one application. Thickness can be extended to 30mm with the addition of an aggregate. On most subfloors, floor coverings can be installed without the need to prime and after just four hours.
For further information on these and other great flooring products contact Cornerstone on 01302 835117 or email cornerstonefloor@btconnect.com